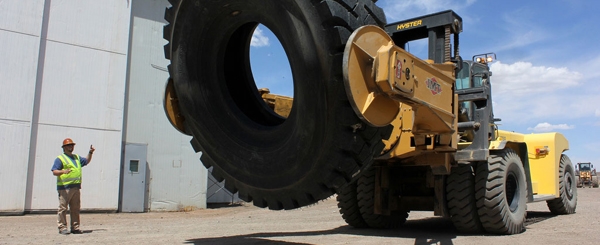 A tire handler is a forklift with a tire handling attachment, also called a TireHand® or Tire Manipulator. Hyster tire handler forklifts are designed to support the mining and earth moving equipment industries across the world. For example, they are used to change the complete wheels on heavy mining dump trucks like Caterpillar and Komatsu (dumpers). Ensuring fast and cost effective tire changes on heavy duty mining trucks in demanding environments, the Hyster tire handlers provide maximum protection for mechanics, excellent all round visibility and an advanced hydraulic control up to 10-way control ability.
For Hyster forklifts used as tire handlers we work together with IMT (Iowa Mold Tooling). IMT is the preferred supplier of Hyster. Their engineers work together closely, which makes it an easy to install plug and play system. The forklift will be delivered from factory with all the necessary hydraulic controls for the tire handler such as body rotation, grip pad rotation, fall back protection and an inhibit switch for unclamping.
We can supply the tire handling attachment as a dual function hang on model (hook-type or pin-type) with Quick-Disconnect couplings in order to switch between tire handler and forks. It will take approximately 15 minutes to change from tire handler to forklift and vice-versa. If general cargo handling is not required, we can supply the tire handling attachment as an integrated model. Which means that the tire handler has a carriage which fits directly into the mast of the Hyster forklift. With an integrated mounting of the TireHand® you will lose less capacity compared to the hang on model.
The Hyster forklift models which are mostly used as a Tyre Handler are; H8XM-6, H14XM-6, H16XM-6, H16XM-12, H18XM-12, H20XMS-9, H25XM-9, H30XMS-9, H32XM-9 and H32XM-12.
The available IMT Tire Handlers are; TH5K115, TH10K135, TH15K160, TH20K167, TH25K165 Short Arm, TH25K165 Long Arm, TH36K164 Short Arm and TH36K164 Long Arm.
We can ship your Tire Handler worldwide, assemble the machine on-site, train your service engineers and supply genuine spare parts etc. etc.
Don't hesitate to contact us if you wish to receive a quotation for a Hyster Tire Handler!
https://www.tito.com/wp-content/uploads/2015/07/hyster_tire_handler-1.jpg
245
600
Tito Lifttrucks BV
https://www.tito.com/wp-content/uploads/2016/04/logo.png
Tito Lifttrucks BV
2018-01-15 08:58:15
2018-03-02 09:54:23
Hyster Tire Handler