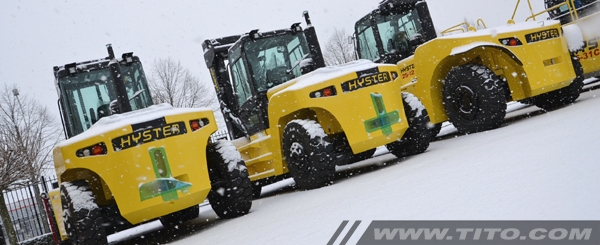 Welcome on our website. On this page you will find information about the Hyster H16.00XM-6
or H360HD.The forklift has got a capacity from 16.000 kg @ 600 mm or 28,000 lbs @ 24″.
The H16.00XM-6 was introduced in 2001 with serial code E019, after a few years the serial
code changed into F019 and the engine changed from Perkins to Cummins.In 2007 the truck has been modified with a new Cummins 6.7L Tier III engine and a new
restyled counter weight with LED lights. The optional oil immersed wet disc brakes became
standard and the serial code changed from F019 into G019.
In 2011 the model name H16.00XM-6 has been changed into H16XM-6 and the serial code
has been changed from G019 into H019. The standard H16XM-6 is now equipped with the
S.O.H. (Spicer Off Highway) TE-10 transmission and air operated drum brakes.Since this
modification, the H16XM-6 Advance has been added to the range, the 'Advance' model is
equipped with oil-immersed wet disc brakes and a ZF 3WG161 transmission, which is a
fully automatic 3-speed autoshift transmission. Both models are equipped with 'Power on
Demand' dual hydraulic pumps which provide high lift speeds. The new hydraulic pumps
are dual (2x 60cc) VDP pumps (Variable Displacement Pumps).
We always have several units on stock which are available for sale or rental. At the moment we have
new and demo units available with 2-stage and 3-stage uprights, below you will find some examples:
https://www.tito.com/wp-content/uploads/2015/12/16-ton-Hyster-H16XM-6-forklift-for-sale-Tito-Lifttrucks-1.jpg
245
600
Tito Lifttrucks BV
https://www.tito.com/wp-content/uploads/2016/04/logo.png
Tito Lifttrucks BV
2015-12-11 13:21:08
2017-10-03 10:02:17
HYSTER H16XM-6 Advance / H360HD2 - H16.00XM-6 / H360HD